We are a modern transport company with a well-established market position both nationwide and abroad. Our services are provided on the highest European level. We offer a vast scope of services provided within a high standard. Our services include mainly international transport – national transport to a lesser degree. Our Company offers not only of its own fleet and warehouse stock but also long-term experience and convenient planning skills.
The company continues to grow. All as profits are invested in purchasing and modernizing our fleet as well as improving the qualifications of our employees. Our customers include large companies and institutions. Nonetheless, our offer is prepared for individual persons as well.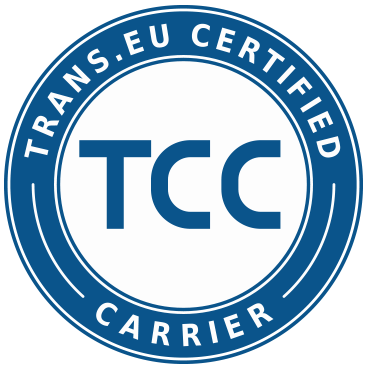 Nearly 20 years of experience within the industry allows us to offer our customers wide and professional transport services, both abroad and nationwide. Furthermore, we offer excellently skilled customer services along with drivers equipped with vast experience and necessary licenses. All this combined with friendly, reliable and professional services offered to each and every customer allows our company to be recognized as a reliable business partner. In addition, we ensure attractive prices for all our permanent customers. Our company is member of both Lower-Silesian Association of International RoadTransport Carriers and Lower Silesian Chamber of Economy in Wrocław.In 2014, we were recognized with the Reliable Carrier Certificate by the TRANS European Transport Fairs. This confirms the high standard of our services and security that we ensure during transportation.
If you are interested in services provided by our company – please do reach out to us – our employees will provide you all the necessary information.